Commercial Heater Replacement
Time for a new system? Get a standards-based, fully audited commercial heater replacement
If it's time for commercial furnace replacement, it's not hard to find an HVAC company that will swap the old equipment for something new.
But if you want to minimize your risk of discomfort, furnace repairs, or premature system failure, that's where PV shines. Call on us for the best commercial heating system replacement in Atlanta.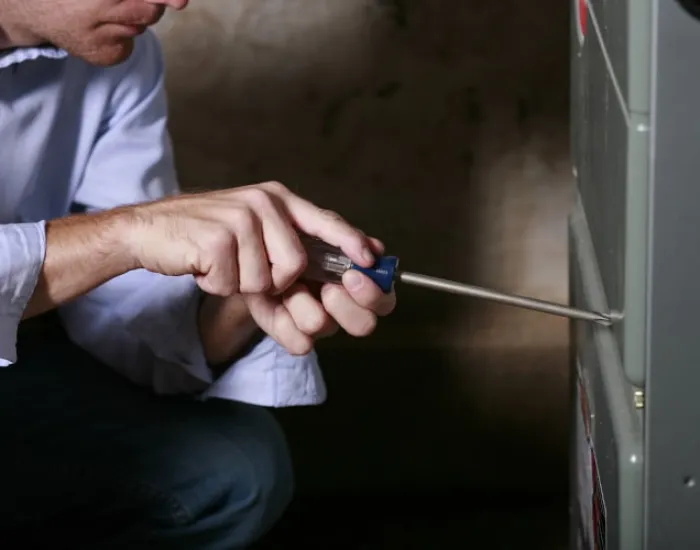 Is it time for commercial furnace replacement at your business or properties?

Here are some signs it's time to replace the old commercial heating unit at your place of business or at the properties you manage:
The system is more than 12 year old and needs frequent repairs
A large component needs to be replaced and the system is out of warranty
You're concerned that an older unit might not make it through the next winter
No matter what you do, the existing system won't adequately heat your space
It's time to replace your AC, and your furnace is the same age
You want a more efficient system for your business
When you call on PV for your commercial heater replacement, you're getting expert service that includes these valuable exercises:
Rigorous analysis of the space: This exercise ensures we select and size your ducts, registers, and other components for maximum system performance.
Load calculation review: Our team reviews the load calculation for your space to ensure your new unit is the right size. Need a load calculation for a new space? We'll get our design team in there any time an engineer's attention is required.
Ductwork analysis: This process tests airflow and static pressure to make sure you're getting the right amounts of air to every area of the property.
Combustion analysis: This safety exercise ensures that the new unit vents properly and doesn't pose a health risk.
I have had nothing but great experiences with PV Heating and Air. They have been servicing my home since 2007 and have always gone above and beyond my expectations

Anasa J.

We highly recommend PV to anyone seeking a first-class HVAC and home environment service. They put customers first.

Kent H.
What options are available for commercial heating replacement?

Nowadays, there are many different possibilities for efficiencies and system types for furnaces. We can help you select from:
Standard efficiency furnaces: This is a typical 80% AFUE furnace. It uses open combustion and will operate similar to the unit you're likely replacing.
High efficiency furnaces: These are 90% AFUE or higher. They use closed combustion and work well to reduce your energy costs during winter.
Single stage: A single stage furnace has one stage of heat. It's the classic "on/off" style furnace that always runs at full capacity when it's on.
Two-stage: These units run at a lower stage of heat most of the time and only operate at full capacity when you really need a lot of heat, fast. They're more efficient than single stage units.
Modulating: A modulating furnace is the most efficient type. It also has a variable speed blower, so the entire system can ramp up and down to meet your exact heating needs at any time.
After determining what size furnace you need for your space, we'll gladly speak with you about the different furnace types available for your needs and budget!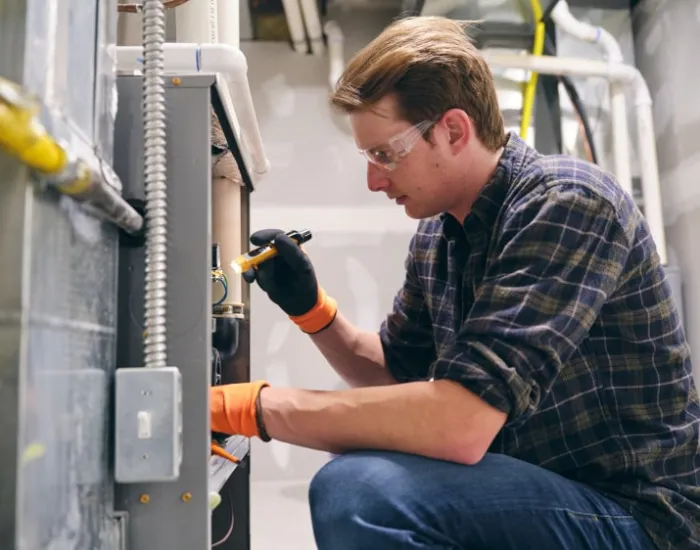 Keep your new furnace in top working order
After your commercial furnace replacement, you can opt for a maintenance plan, which includes:
Burner and blower motor assembly cleaning

Pilot light, gas pressure, and blower motor testing

Combustion safety inspection

Heat exchanger inspection

Filter changes
15% parts discounts
Priority attention if you ever need service
Here's why you should choose PV for commercial furnace replacement

When we say we offer a standards-based installation, what we mean is that we do things the right way.
And we operate in an industry where doing things the wrong way is normal. From poor ductwork installation to improper system sizing and beyond, the commercial furnace replacement business in Atlanta is rife with low quality contractors. This situation results in thousands of unnecessary service calls and who knows how much wasted energy every year.
When we started our company, we knew we weren't having any of that. At PV, we perform commercial heater replacement the same way we do it at our own business.
All of our installations are performed by highly trained technicians who receive 125 hours of additional training each year. We go the extra mile to ensure your entire system provides peak heating performance for your space. Then the system gets a top-to-bottom quality control audit from a senior team member.
It's a more rigorous installation than you'll get with other Atlanta commercial furnace replacement companies, but it's less likely to need repairs, provides longer equipment longevity, and — this one's important — offers better comfort than you'll get with any other provider.