What's in an AC maintenance contract, anyway?
If you've got one with us, a whole heck of a lot.
PV Heating & Air's Priority Service Plan covers every possible AC maintenance task to help ensure reliable performance all summer long!
And with benefits like parts discounts and a reduced service charge of $85, it's a whole lot more expensive not to use us for preventative maintenance.
Here's what you get with our AC service agreement
Every spring, our experienced technicians visit your home to perform the following maintenance procedures:
Cleaning and testing of condensate drain line
Inspection of the condenser coil and cleaning as required
Checking total static pressure for proper airflow
Adjusting airflow for proper temperature rise
Cleaning or replacing of all 1″ air filters
Inspection of the inside cooling coil
Inspection of primary and secondary drains
Inspection of blower components
Inspection and tightening of loose electrical connections
Monitoring AC operating pressures for proper refrigerant charge
Monitoring voltage and amperage draw on all motors
Monitoring AC and heating cycles
Inspection of thermostat operation
If there's a problem, we can find it and address it before things heat up during the summer. And you'll pay a whole lot less than you would if it broke on a hot day in July and needed emergency service!
Did we mention that our air conditioner service agreement is also a heating service agreement?
Well, it is! When you sign up for Priority Service with PV Heating & Air, you're not just getting yearly AC maintenance – you're getting two visits per year.
We come out once before the cooling season and once before the heating season. That way, we can help ensure your comfort throughout the year.
The heating inspection also includes rigorous combustion safety testing and analysis, so you can rest assured that your family will feel comfortable and safe!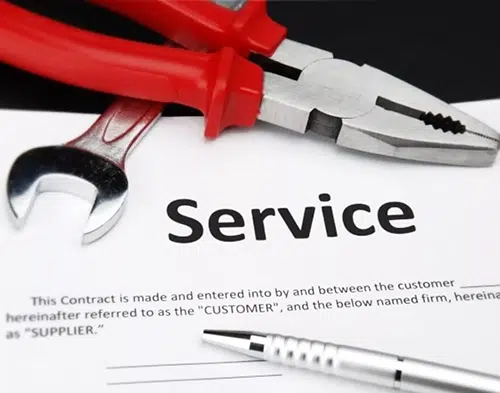 How much do air conditioning service contracts cost?
Different contractors charge different rates for their AC service agreements. Here's what you pay (and how much you save) when you sign up for PV Heating & Air's Priority Service Plan.
Keep in mind that our agreements cover two visits each year!
$96 for each additional system
And that doesn't even include all the money you save by avoiding breakdowns, not paying full price for parts, and ensuring the longest possible lifespan for your HVAC system!
Enjoy even more benefits with PV Heating & Air's AC service contracts
Besides the rigorous inspection, our Priority Service Plan comes with all of these advantages:
Faster service: Any time you do need service, we move you to the front of the line.
$85 service charges: In the event your system does need service, we reduce the service charge.
15% parts and labor discount: Need to replace a bad part? We lower the price when you've got an active service agreement.
Free 1″ air filters: Get unlimited air filter replacement (standard filters only) throughout the life of your maintenance contract.
Transferability: If you sell your home, your agreement will transfer to the new owners.
---
At PV Heating & Air, we guarantee your satisfaction as a PV Priority Customer.
You can cancel at any time and are never locked into anything.