An air conditioner tune-up gives you confidence. What kind of confidence? Confidence that your AC will work properly on the hottest days. Confidence that you've minimized the potential for breakdowns. Confidence that you've maximized the lifespan of your HVAC system.
At PV Heating & Air, our team delivers top-to-bottom AC tune-ups before and during the cooling season. We check everything so you enjoy peace of mind all summer long.
Why book a home AC tune-up? Because your air conditioner works hard.
In Atlanta, a typical residential air conditioner runs for more than 2,500 hours in a season. We ask a lot of our AC equipment in this hot climate!
Benefits of a regular tune-up include:
Reliable performance throughout the summer
Lower potential for breakdowns
Fewer repairs over the long term
Longer-lasting AC equipment
Better indoor comfort on the hottest days
Maximum efficiency while the AC runs
Our AC tune-ups are the most comprehensive you'll find in our area.
Here are just a few of the steps we take to ensure your air conditioner provides reliable service throughout the summer:
Clean the condenser coil
Flush out the drain line
Test thermostat, wiring, AC shutoff, and blower shutoff components
Test capacitors and contactors
Inspect line set and coils
Verify refrigerant is properly charged
Test limit and safety controls
Test static pressure
What does an AC tune-up cost?
At PV Heating & Air, we inspect air conditioning systems every year for PV Priority Customers. When you enroll in PV Priority Service, you receive two system tune-ups each year (one for AC and one for heating).
Here are our current prices:
$189 for one system
$288 for two systems
$384 for three systems
$96 for each additional system
With a Priority Service Plan, we move you to the top of the list for service calls! You also benefit from $0 service charges and a 15% parts discount if we ever need to replace a component.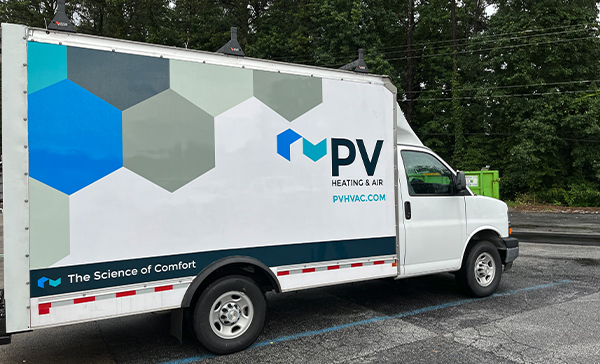 That's an excellent deal, but you know what's even better? The money you save by not having to repair your AC when it stops running. And let's not forget the hours (days?) of discomfort you might experience after the AC breaks down!
The biggest savings from an AC tune-up comes from repairs you never had to pay for. That, plus the peace of mind you enjoy from knowing that your AC is primed to perform throughout the summer.
Here's why you should choose PV Heating & Air for your AC Tune-up
Affordable service agreements with perks (see above)
Atlanta's most thorough AC inspection (see above)
Experienced technicians who work for our company – no subcontractors
Expert service from professionals who complete 125 hours of training every year
Trustworthy service with zero up-sell incentive for technicians performing tune-ups
Peace of mind that your AC has received top-to-bottom TLC from skilled professionals