Commercial HVAC Services in Atlanta, GA
Most commercial HVAC companies don't do things the way we do. You should be glad.
Atlanta area businesses, organizations, and property managers turn to PV when they demand high standards, honesty, and complete transparency about all things HVAC. In other words, people come to us when they want HVAC done the right way.
When it comes to commercial heating and cooling services, we know you have high expectations. You deserve timely attention, the best possible long-term solution for any problem, and — if you're getting a new system — as near-to-perfect an installation as possible.
That's how we roll here at PV. Good thing, right?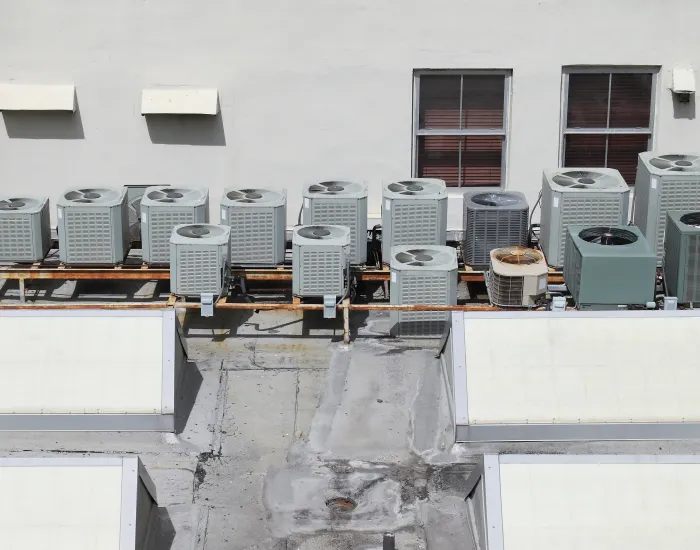 Commercial AC services that keep everybody cool, even in the raunchy Atlanta heat
Commercial AC Replacement & Installation

Here in Atlanta, our air conditioners work hard. Real hard. And they do all of that hard work for seven or more months out of the year! That's why every commercial AC replacement we perform includes:
Expert installation from experienced technicians who are employed by us and receive 125+ hours of continuing HVAC education each year
Close attention to an engineer's load calculation, so you always get the right size and type of equipment
Additional tasks that most commercial HVAC contractors don't perform, such as sizing and adjustments for ductwork, registers, and grilles
A rigorous quality control audit following the installation, so you can rest assured that the new system will perform at the highest level
Commercial AC Repair

When the AC stops blowing cold air, you need it fixed — quickly. Your patrons, guests, or tenants demand nothing less! That's why our commercial AC repair services include:
Service in less than 48 hours or even sooner if you have an AC maintenance agreement
Top-to-bottom AC inspection from an experienced and licensed technician
Additional attention to common commercial AC repair issues, like filters, belts, and coils
Long-term solutions that meet your needs and fit your budget
Total confidence that you're working with a trustworthy professional who tells you exactly what's going on and has every incentive to help you enjoy a dependable, working AC system
Commercial AC maintenance for 24/7 peace of mind
Get a discounted tune-up every year before the cooling season! Our commercial air conditioning maintenance plans help you:
Avoid expensive and inconvenient breakdowns on hot days
Fix small AC problems before they become debilitating, expensive AC problems
Keep business on track and avoid cancellations or service delays due to AC problems
Get priority service whenever a repair is needed
Get a 15% discount on any parts needed for a repair
Lower your cooling bill — a cleaner AC is a more efficient AC
Extend your AC's longevity by giving it regular attention
Get answers to any HVAC question with a dedicated account manager who knows your name, knows your business, and has deep experience as an HVAC technician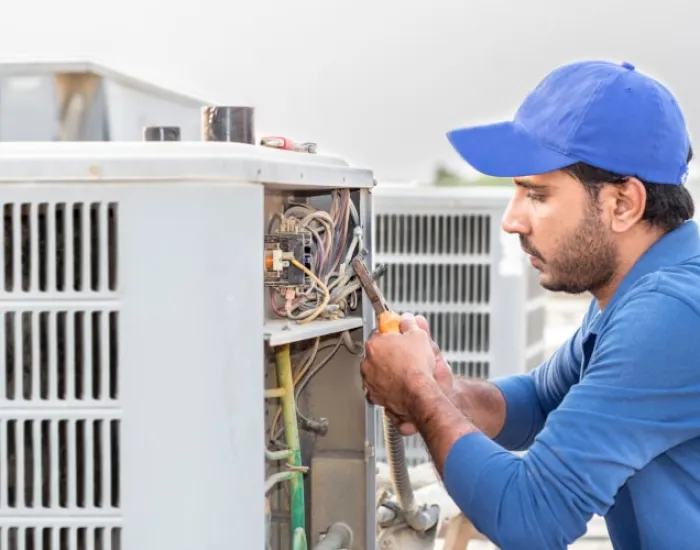 I have had nothing but great experiences with PV Heating and Air. They have been servicing my home since 2007 and have always gone above and beyond my expectations

Anasa J.

We highly recommend PV to anyone seeking a first-class HVAC and home environment service. They put customers first.

Kent H.
Commercial heating services that make every winter a cozy winter
Commercial heater replacement and installation
Metro Atlanta businesses and business owners understand how important it is to have a furnace or heat pump they don't have to worry about. That's why every PV installation includes:
Expert analysis to determine the right duct sizes, best types of ducts, and the proper size and locations for all registers and grilles
Review of property's load calculation(s) to ensure your new heating system is the right size for the space
Airflow and static pressure testing to make sure the right amount of air is moving through the system
Combustion safety testing to ensure combustion gasses are venting properly and there's no risk of carbon monoxide (CO) leaks.
Commercial heating repair

Nobody wants to deal with a busted furnace on a cold January morning! When you've got a problem, we'll be there as fast as possible with the best long-term solution. Here's what you get:
Timely attention so you can start warming your space ASAP
Complete inspection of your system, so we can pinpoint the precise problem or problems
Expert service from an experienced, highly trained technician who is employed by our company
Attention to all of the most common problems, such as broken belts, dirty burners, too much gas, or cracked heat exchangers
Additional inspection of your system to verify there are no dangerous CO leaks
Total transparency about any repairs we need to perform
Avoid costly repairs with a commercial heating maintenance plan
When you sign up for a maintenance plan, you get two tune-up visits per year: once for the cooling season and once for the heating season. Your heating season inspection includes all of the following:
Burner and blower motor cleaning
Pilot light and gas pressure tests
Flue pipe and draft diverter analysis
Combustion safety test to find CO leaks
Heat exchanger inspection
You also get priority service, a 15% parts discount, filter replacement, and additional filter change follow-up visits! Call your dedicated account manager with any questions, and rest easy knowing you've prevented major HVAC problems before they became problems.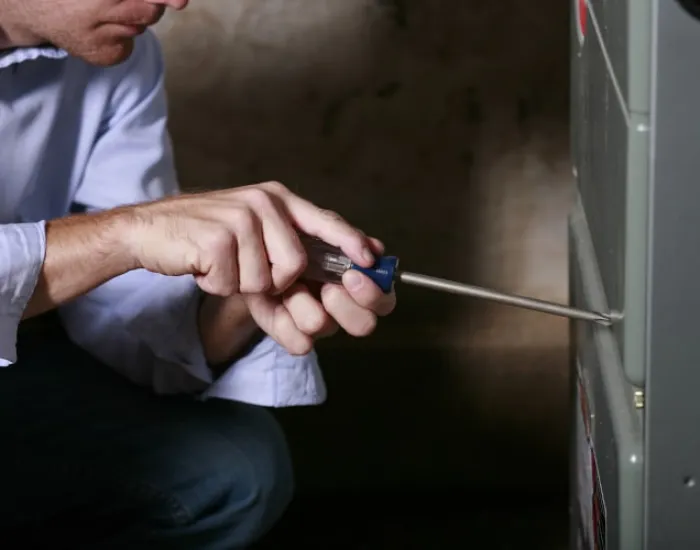 Types of businesses and organizations we serve
Apartments and condominiums
Property management companies
Schools and colleges
Religious institutions
Offices and office complexes
Retail businesses
Factories and manufacturing facilities
Health clinics and physician offices
Why choose PV for commercial HVAC services?

It's a great question. With all of the commercial hvac service companies in Atlanta, what does PV offer that's different from everyone else?
For starters, we started our company because we wanted to do something the other companies weren't doing: deliver a great work product. When you work with us, you're working with a company that only does standards-based, fully audited installations that check every single box for how it ought to be done. Others cut corners all the time. We don't. Ever.
We're a family-run company that puts customers first. And we stand behind the work we do.
Then there's our technicians. Every single one of them is employed by PV Heating & Air. We do not use subcontractors. They also undergo 125 hours of additional training each year to ensure they stay current. Our technicians receive a wage or salary from our company and have no incentive to up-sell you on anything. Instead, they have lots of incentives to deliver the best possible service.
When you decide to work with us, you really are getting something that's hard to find among most commercial HVAC contractors: a company that's more concerned with your comfort and satisfaction than its own bottom line.