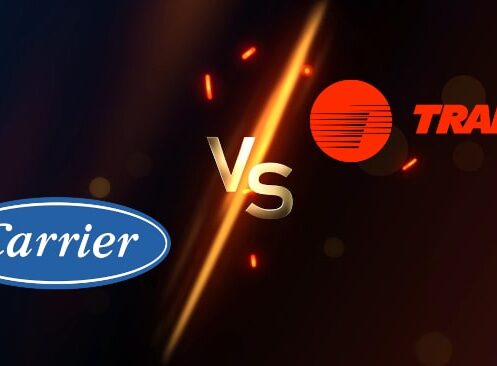 Here on planet HVAC, we tend not to have favorite brands. After you've been in this business for a while, you know that most HVAC system manufacturers make a solid product. The biggest differentiator between a system that performs at a high level vs one that performs poorly is who installed it – and how well.
Long-term HVAC system performance is 80% installation quality. Brand or manufacturer makes up the remaining 20%.
That being said…
20% isn't nothing! And yes, we do happen to have a favorite in the Carrier vs Trane rivalry.
Many homeowners already prefer one of these brands over the other. Maybe they had a Carrier system that lasted 20 years, so they want another Carrier when it's time to replace the old one. That's cool! We can accommodate. The same holds true for Trane, another great brand.
Of course, Carrier vs Trane is the big question here and these are arguably the two top brands in the industry. At PV Heating & Air, we are authorized dealers for both manufacturers. When a client insists on Trane over Carrier or vice versa, we're happy to oblige. It's not something we make a big fuss about.
But when they don't have a preference, we always prefer to install…
Wait a second! Let's not get ahead of ourselves.
We'll tell you which of the two brands we prefer. But first, let's talk about the factor that's way more important – like monumentally more important – than the name you see emblazoned on your heat pump.
Getting a quality installation > the Carrier vs Trane debate
Ensuring that your system is installed properly is so much more important than the company that manufactures the equipment. After all, getting a new heating and air conditioning system isn't like buying a refrigerator. You don't just take it out of the box and plug it in.
Getting new HVAC equipment is more like buying a new car – except that you have to hire somebody to assemble the car on site.
When you think about it this way, it's easy to see how important the installation is. Nobody understands this better than the US Department of Energy (DOE), whose literature emphasizes HVAC installation procedures such as:
You might be surprised to know that there are licensed contractors all throughout Atlanta who don't do all of these things before and during a new HVAC installation. We know this is true because we frequently respond to service calls where we have to correct these guys' mistakes.
When a sloppy or less-than-scrupulous contractor installs your new air conditioner, it's not going to matter whether there's a Carrier or Trane logo on it. It's probably not going to perform adequately – and that won't be the manufacturer's fault.
Other things that matter more than HVAC brand
In addition to the installation and HVAC system commissioning procedures specified by the DOE, a good installer should:
Include a better air filter with the new system: At PV Heating & Air, we install media filters that you only need to replace once or twice per year.
Check the static pressure in the system: You want just enough static pressure to ensure proper airflow. Too much can overwork the system; too little can prevent your home from feeling comfortable.
Tune the blower motor to the duct system: This is really critical for new furnaces with ECM blower motors. Most installers don't bother to do this, and the furnace doesn't perform very well as a result.
All of these activities have a major impact on the performance and lifespan of your heating and air equipment – a much larger impact than what brand you select for your new system.
Here's where Carrier vs Trane actually matters
Both of these brands are great, so why pick one over the other? Two words: wholesaler support
While you might never need to interact with a Carrier or Trane wholesaler, your HVAC contractor does. As the consumer and the owner of the system, you want the wholesaler's customer service to respond promptly, communicate clearly, and basically address every issue as expeditiously as possible. A faster, better solution for your contractor is a faster, better solution for you.
So, which company does that better?
Here in Atlanta, we think Carrier is the winner. Our regional wholesaler for Carrier is a family-owned company called Mingledorff's. They're based in the Metro area, and they're fantastic to work with. In general, we've found that Carrier does a better job serving customers in this area because of the folks at Mingledorff's.
When it comes to Trane, we have to call the main corporate office to deal with wholesaler questions, whether it's for sales or support. It's a clunkier experience, and it often takes longer to solve problems or answer questions.
For this reason, we prefer to install Carrier equipment whenever the client doesn't have a preference.
Keep in mind that:
Our preference for Carrier has nothing to do with the quality of the equipment itself.
Both Trane and Carrier make a great product.
The wholesaler situation might be different where you live; our preference is specific to the Atlanta area.
At the time of writing, another reason to go with Carrier is if you want the most efficient system. Their 26 SEER2 air conditioner currently beats out Trane for efficiency specs.
Remember: Trane vs Carrier isn't the most important factor
When you're in the market for a new heating and air conditioning system, you need to select the contractor who performs the best installation. That is, hands down, the most important factor when it comes to getting new HVAC equipment. The Carrier vs Trane vs Lennox vs Rheem question pales in comparison!
If you live in Metro Atlanta and think it's time for a new HVAC system, get in touch with PV Heating & Air today! You can call us at (404) 994-2229 or complete the form below.