Indoor Air Quality Services
How healthy is the air inside your home? In most homes, it's not so great.
Pollen, pet dander, product off-gassing, high humidity that invites dust mites and microbes… There's no end to the contaminants that may be cycling through your air - and your lungs.
Our team knows how to improve indoor air quality.
Let's identify your biggest sources of indoor air pollution and create an action plan that helps you breathe easier. From air sealing to ventilation systems to ductwork improvements, we've got you covered for all things IAQ.
How healthy is the air inside your home?
Schedule a free consultation to discuss your indoor air quality (IAQ) concerns. Depending on your needs, we can analyze your home for air infiltration problem spots, recommend or install IAQ equipment, and create an action plan for making your air safe and clean.
At PV, we're Building Performance Institute (BPI)-certified. Our experts know how to help your family breathe clean, healthy air!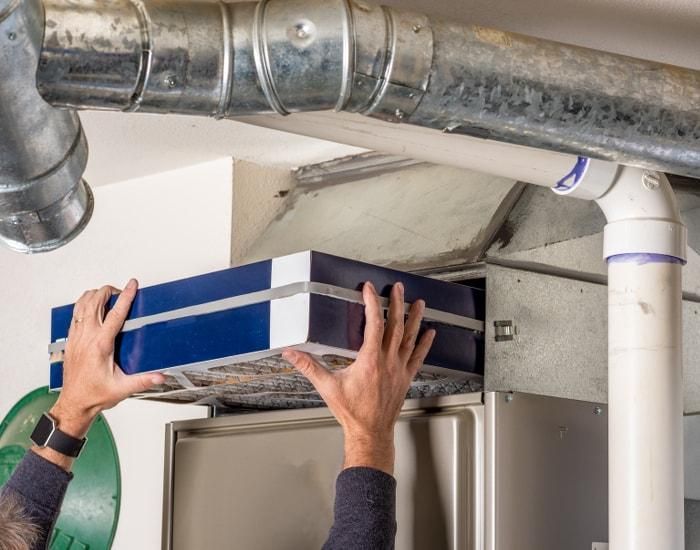 More often than not, indoor air is polluted. Really polluted.
We'll listen to your specific concerns, complete a blower door test, and perform a thermal imaging analysis. Then we'll show you how to address any IAQ problems we uncover. Solutions might include the installation of:
Air Cleaning Systems: From media filters to complete HEPA air filtration systems, we'll help you choose an option that meets your needs and budget.
Dehumidifiers: Whole-house dehumidifiers keep moisture levels low, preventing mold growth and reducing dust mite populations.
UV Lights: Got mold on your indoor coil? UV light systems prevent those contaminants from growing and help clean the air passing through your HVAC system.
Fresh Air Systems: Ventilation dampers with filtration dilute and remove VOCs, pet odors, cooking smoke, and other harmful substances.
Energy Recovery Ventilators (ERVs): Balanced ventilation from an ERV ensures consistent air changes to keep your indoor air clean.
At PV, we provide a suite of services that for improved indoor air quality. They include:
Crawlspace Encapsulation: Reducing humidity in your crawlspace can improve air quality inside your home.
Air sealing: Stop unwanted air infiltration! Sealing air leaks around your home keeps conditioned air in and hot (or cold) air out. It can also help you maintain comfortable humidity levels at all times of year.
Duct Cleaning: Ductwork often harbors mold, dirt, and debris. Our duct cleaning service rids your ducts of these contaminants so that nothing harmful enters your home when the HVAC system turns on.
Duct sealing: Prevent unwanted air from your attic or crawlspace from entering your living space.
I have had nothing but great experiences with PV Heating and Air. They have been servicing my home since 2007 and have always gone above and beyond my expectations

Anasa J.

We highly recommend PV to anyone seeking a first-class HVAC and home environment service. They put customers first.

Kent H.
FACT: We spend most of our lives indoors.
IAQ is a big deal.
But here's the thing: It's a rare kind of HVAC company that really gets indoor air quality. It's not just about heating and cooling your home. It's also about humidity control, fresh air ventilation, and effective filtration.
Getting these things right affects your health – especially in today's high performing, energy efficient homes.
Every home needs clean air, but keeping air clean in newer, "tighter" homes is tricky. That's why we perform several tests to get to the root of any IAQ problem. It's important to get IAQ right, no matter how complex – or simple – the solution.