Commercial AC Repair in Atlanta, GA
Get timely commercial AC repair service for your Metro Atlanta business.
PV delivers trustworthy, long-lasting repairs for commercial AC systems throughout the region. Call on us for commercial air conditioning repair service when you need a contractor who exceeds every quality standard.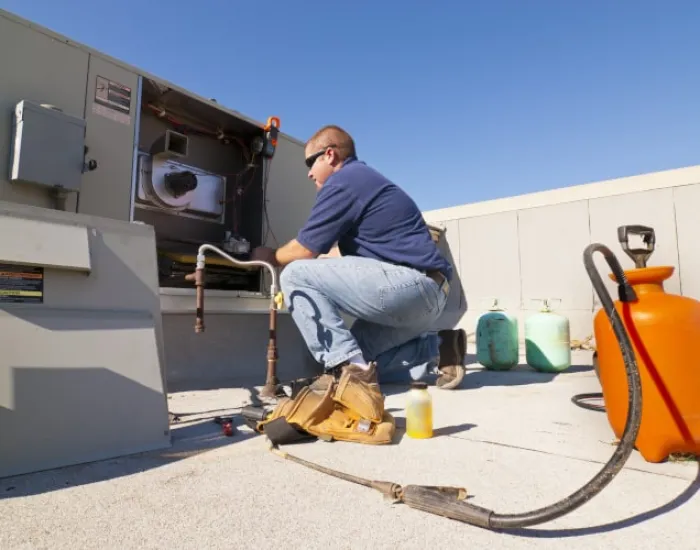 If you searched for "commercial AC repair near me" and you live in Atlanta, you're in the right place.
When do you need commercial air conditioning repair service? If you're experiencing any of the following issues, it's probably time to book a service visit:
Air is blowing, but it's not cold
The AC unit isn't moving air at all
You can't get the system to power on
There's ice on the coil, and the system won't cool
There are strange noises or smells coming from the unit or your ducts
It's tough to find an HVAC company that stands behind the bold claims they make about their service. At PV, we do stand behind our work. When we say you're getting the best possible repair in a timely fashion, we mean it. When you hire us, you get:
Service within 48 hours or sooner when you have a commercial AC maintenance agreement
Complete analysis of your AC system from a licensed professional
Special attention for filters, belts, and coils — the most common weak spots in commercial AC units
The best possible repair for your needs and budget
A trustworthy provider who never cuts corners and always gives you the whole story about what's going on with your AC
I have had nothing but great experiences with PV Heating and Air. They have been servicing my home since 2007 and have always gone above and beyond my expectations

Anasa J.

We highly recommend PV to anyone seeking a first-class HVAC and home environment service. They put customers first.

Kent H.
Common commercial AC unit repair issues

These are some of the most common problems we encounter when servicing commercial air conditioning systems throughout Atlanta:
Dirty coil that prevents proper cooling
Broken belts — a really common failure point in commercial ACs
Refrigerant leaks or improper refrigerant charge
Clogged drain line
Broken condenser fan motor or blower fan
Dead capacitors or bad contactors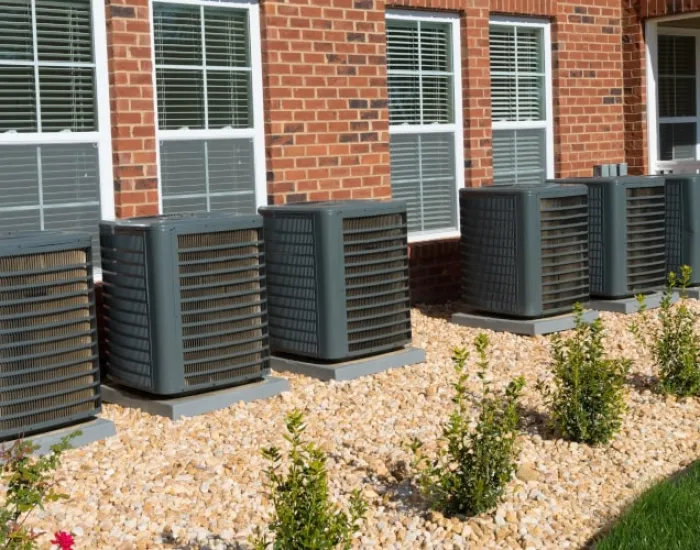 We know what it's like to have the AC die on a hot day

That's why we always strive to deliver:
Timely service that addresses your AC problem ASAP
The best possible repair, so you can trust that the work we performed is the right solution to your problem
Our team understands how important it is to fix your AC for the long haul. When you call us for commercial air conditioning repair service, you don't have to hope you're getting a top-notch repair from someone who's done it before.
You can know you're getting the best service in Atlanta.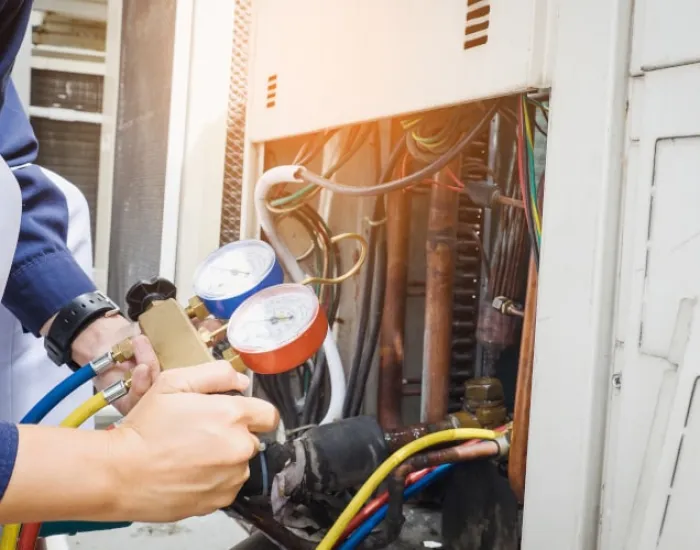 Want to avoid commercial AC unit repair in the future? Here's how.
Our preventative maintenance plans help business owners across Metro Atlanta prepare their air conditioners for our long, hot summers. That way, they minimize their risk of needing a repair and maximize their peace of mind!
When you sign up for a maintenance agreement, you get:
Two HVAC inspections per year, plus two filter changes — a total of 4 visits!
A dedicated commercial HVAC account manager who you can call any time with any question you've got
Complete inspection of all AC components prior to the cooling season
Preventative repairs and adjustments as needed to prepare for summer
Filter changes, coil cleaning, drain line cleaning — all the "must do" items for any AC maintenance visit
Priority service in the event of an AC problem
Parts discounts for any AC unit parts we need to replace
Why choose PV for commercial air conditioning repair?

Ever had an HVAC company that follows all industry best practices for repair and installation? What about a company that stands behind everything they do, offers full transparency for the work they perform, and puts your best interest ahead of their own bottom line?
Not many HVAC companies operate that way. Unfortunately, cutting corners and maximizing profits is the norm in this business — often at the customer's expense.
PV isn't like that at all. We built the HVAC company you always wished you could hire.
We're three brothers who decided Atlanta needed a company that did HVAC the right way. Every technician on our team is highly trained and works for us. They're not subcontractors. We also go out of our way to ensure you understand exactly what your options are for all repairs, AC and otherwise.
We truly want you to have a comfortable environment for business and an air conditioning system you can depend on — not one you're always worrying about.