Air Ducts And Ductwork Services
Healthy HVAC needs healthy ducts
Ductwork matters. If your ducts are leaky, undersized, and poorly installed (most are!), your HVAC system struggles. It's hard to stay comfortable, and you might experience poor indoor air quality.
The good news? PV can make your ductwork work.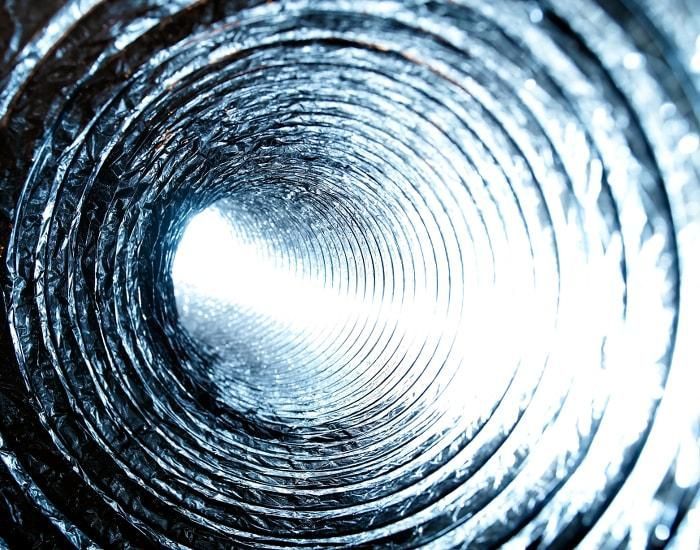 We help your ductwork help you. Here's how.
Duct leaks are expensive. Every time your HVAC system runs, you lose conditioned air to your crawlspace or attic. Ductwork problems can also decrease air quality. At PV, we eliminate those problems with the following services:
Duct sealing: We seal all connection points, boots, and registers with mastic or mastic tape , so you can say goodbye to duct leakage.
Duct cleaning: Dust, dirt, mold, and dust mites could be living in your ducts. A complete and thorough cleaning obliterates those contaminants and improves indoor air quality.
Aeroseal duct sealing: After cleaning your ducts, we send Aeroseal throughout your system to seal gaps and cracks from the inside out – that way your ducts don't get dirty again.
Airflow adjustments: Sagging flex ducts, poor duct installation, or improper register sizing inhibits airflow and creates air quality problems. We make adjustments to your ductwork to achieve the proper pressure balance and improve comfort.
Smart duct design boosts energy efficiency, improves comfort, and makes your HVAC equipment last longer. At PV, we're sticklers optimal duct systems. Here's how we make great ductwork a reality:
Ductwork design: When ductwork causes pressure imbalances, poor indoor air quality, or uneven temperatures, redesigning it is a great move. We design ductwork according to Manual D, the proper ACCA industry standard.
Ductwork installation: Want proper airflow, proper static pressure, and consistent temperatures throughout your home? So do we. We install hard pipe ducts and flexible ducts with quality connectors – no sagging, no bending.
Test, test, test: After installing new ductwork, we perform various tests to determine pressure balance and ensure minimal leakage. Our ductwork installations achieve 5% leakage or less. Period.
I have had nothing but great experiences with PV Heating and Air. They have been servicing my home since 2007 and have always gone above and beyond my expectations

Anasa J.

We highly recommend PV to anyone seeking a first-class HVAC and home environment service. They put customers first.

Kent H.
"Ductwork done right" is a rare thing. But not with PV

Let's face it: Most HVAC contractors don't do ductwork very well. Leaky ducts, poor indoor air quality, and severe energy loss is basically normal. In our opinion, it shouldn't be that way.
It's why we go out of our way to keep your ducts clean and obstruction-free.
When your ductwork is properly installed and sealed, your home is more comfortable. Simple as that. Your air is safer to breathe, too.