When you need ductless mini-split service, you can't just hire any old HVAC contractor. You need someone who understands mini splits.
PV Heating & Air is a certified Carrier Ductless Contractor.
When you need an experienced, specially trained mini-split service contractor, we're your guys. More Atlanta homeowners are installing mini-split AC-heat pump units, but even these systems – as great as they are – eventually need service.
Good thing there's an expert in your area.
Mini-Split Installation
Enjoy a professional, fully audited mini-split system installation with an optional 10-year labor warranty.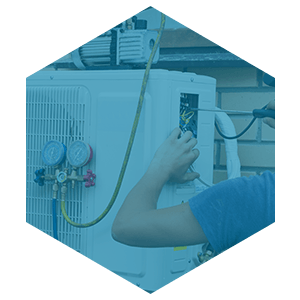 Mini-Split Repair & Maintenance
Is your mini-split system misbehaving? Our experienced technicians can diagnose the problem and deliver the best long-term fix.
What is a ductless mini split system, anyway?
It's an HVAC system that cools your home in summer and heats it in winter. But it doesn't have any ducts.
That's good because ductless construction and other design features allow the system to:
use far less energy than typical ducted systems
Operate so quietly, you won't even notice it's running
Provide variable speed AC and heat to match your exact comfort needs
Easily divide into zones for more precise temperature control in different rooms
People get mini split AC and heating systems for a variety of reasons.
Here are some of the more common ones:
HVAC for a home addition
Retrofit or renovation of existing rooms
Finishing and conditioning a previously unfinished space
Adding HVAC to a backyard workshop, studio, or detached garage
Supplemental AC and heat for rooms that are difficult to heat and cool
And in case you're wondering, our team also installs, and services ducted mini-split systems. These are similar to ductless models, except that they use ducts to move air to multiple areas of your home.
Wait a sec. Can a ductless mini split AC heat my home, too?
Most can, yes. A typical mini-split AC system is a heat pump capable of cooling and heating.
In summer, it functions as an air conditioner. In winter, it removes heat from the outdoors and pushes it into your home to provide heat. It's the same way typical air source heat pump systems work, only mini splits do it without ducts.
Oh, and if you only need a mini-split that's capable of cooling (think AC only), those are available, too.
When do you need mini-split service?
Yep, mini-split systems need maintenance just like a traditional HVAC system.
We often serve the following problems with mini-split systems:
System not cooling or heating properly
Not enough air moving through the system
These issues may be caused by refrigerant leaks, dirty system components, a dirty air filter, a failed control board, or just poor workmanship by the installer.
The best way to avoid these problems is through regular mini-split service. Our HVAC service agreements are the best in Atlanta and include parts discounts, priority service, and two system inspections each year!
Why choose PV Heating & Air for ductless mini split air conditioner service?
Because not just anybody knows how to service these systems.
We're a certified Carrier Ductless contractor. Our team has also received specialized training in mini-split installation and service directly from system manufacturers.
For an uncommon HVAC system, you need a contractor with uncommon expertise.
At PV Heating & Air, we service all brands of mini-split systems. Whether it's a Mitsubishi, Carrier, Fujitsu, LG, Panasonic, Daiken, or another brand, our team understands the unique issues these units can experience.
We also service every type of mini-split, including wall-mount, ceiling-mount, and floor models. Got a ducted mini-split system? Our team services those, too.